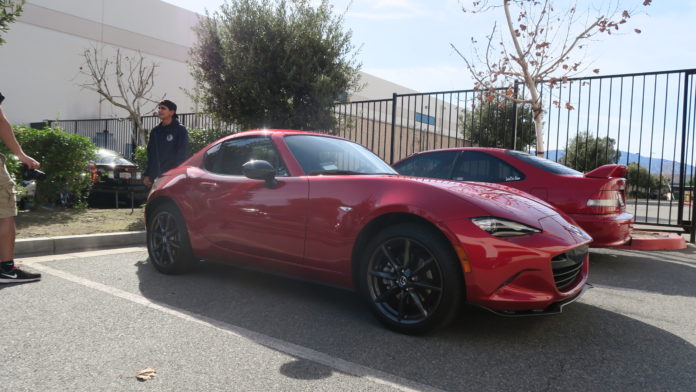 Since the reveal of the ND MX-5 in 2014 a common fault people pointed to was the 155 horsepower 2.0L SKYACTIV engine. As a Miata owner myself, I do have to say that this car was never meant to be a high horsepower quickly accelerating car, it is meant to be enjoyed on twisty roads using the momentum that carries easily through the excellent handling. On paper the current 155 horsepower engine does not sound like much but it is important to keep in mind that this car weighs about 2300 pounds and has a well engineered power curve. Car and Driver report the 2017 MX-5 can accelerate from 0 to 60 miles per hour in 6.1 seconds. Certainly that is not a record setting pace, but still a respectable number given the low horsepower number.
Doubters can rejoice though, as it is rumored the 2019 Mazda MX-5 will be equipped with a higher horsepower engine and even a higher redline. The power will be raised to 181 horsepower and the redline will now be sitting at 7,500 RPM. This is quite a significant increase for the very lightweight MX-5 and I believe this is the perfect power increase many Miata enthusiasts have been wishing for. This does not push the MX-5 into dangerously fast territory but it does give it the slight bump in speed that could make it more fun on straight road stop light to stop light driving.
This information comes the Japanese magazine Car Watch. They report that were be some valvetrain upgrades to support the 7,500 RPM redline including some stiffer valvesprings and reshaped intake and exhaust ports. For the bottom end, lighter connecting rods and pistons will be included, helping boost the redline and power. Another upgrade that can make the MX-5 more accessible to taller people is a telescopic steering wheel, it will only move around an inch, but this can go a long way in the small interior of the MX-5.
I feel like the use of first-ever is warranted here. So here is a short animation of the first-ever telescoping steering wheel in a Miata. As demonstrated by a Car Watch writer in the updated 2019 MX-5. https://t.co/2uRiry9cux pic.twitter.com/IIs60WB9h7

— Bozi Tatarevic (@hoonable) June 11, 2018
All in all, I think this will be a great upgrade for the MX-5. It gives it just enough power to be more enjoyable without taking away from the classic Miata philosophy. Mazda really does take the extra steps to ensure the Miata is a solid and well rounded car, I have faith that this release of the enhanced Miata will be no different.
Now, I guess we await the release of the Mazdaspeed MX-5.
Check out my 1991 Mazda Miata BRG here: