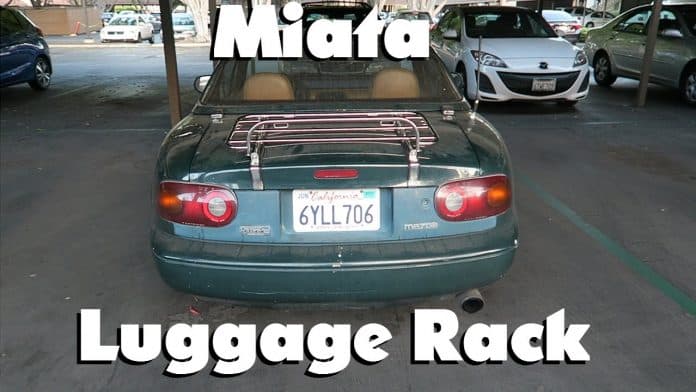 Thinking about going on a road trip in your Miata? You pack the suitcases and go to toss them in the trunk. You quickly learn that you might be able to fit one if your lucky. Sure – "you should have bought a bigger car.." But who wants to drive a boring commuter car on your exciting days off. Strapping on a luggage rack to your Miata can make those thrilling trips possible. I put together a guide on how to install a luggage rack and choose which one to buy.
A luggage rack on a Mazda Miata can basically double your storage capacity. Plus if you choose the right one, it can make your Miata look even better.
Especially those going for a retro style. The Miata's is complicated by a splash of chrome (especially the NA and NB). And people love to go with this approach – you can tell by the countless chrome accessories sold on sites like Moss Miata.
Do I need to drill my Miata Trunk?
No, not at all. Sure there are some that you would need to drill through the trunk to properly attach. But for the most part, MX-5 luggage racks will use a system that clamps the edges of your trunk lid.
And no, they shouldn't scratch your trunk. Almost all of the luggage racks will come with some sort of rubber weather stripping that separates the metal part of the rack from the metal of your Miata. However, leaving it on long enough could protect that strip of paint from the sun. In some cases leaving your car in the sun often could leave the underneath of that area brighter when you eventually do take it off.
What's the Best Luggage Rack to Buy for my Miata?
There are a few different luggage racks to choose from. Some are more long term than others. Here are some of the most common ones.
This is a good solution if you are looking for something to easily put on and take off. If you are not a fan of the luggage rack look – this is probably the option for you!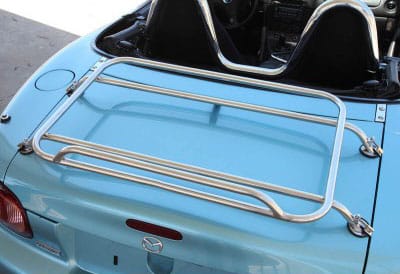 As most Miata owners know – Moss Miata is always a good choice for parts. And the luggage rack they sell is a great option. It's chrome and clamps to the sides of your trunk . Making installing and removing it fairly easy – maybe not as easy as the first boot bag – but can still be done in minutes.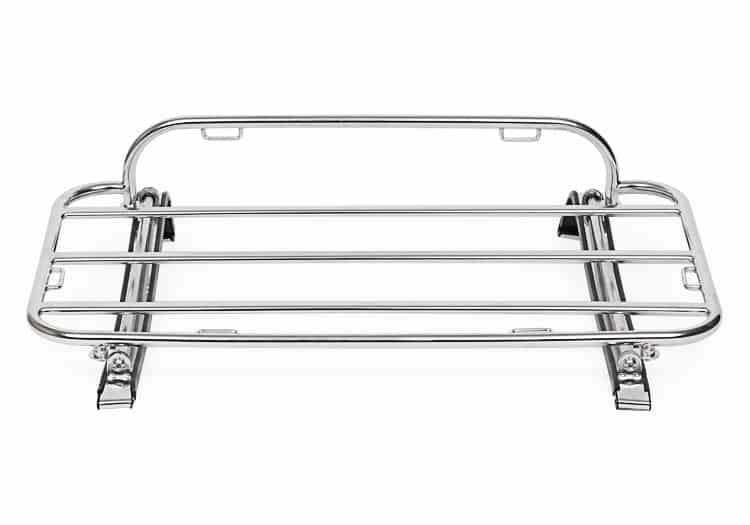 A good looking piece for the reasonable price. This one attaches by clamping to the top and bottom of your trunk instead of the sides. In my opinion this one is the best looking because the horizontal bars and loopholes for straps make it look substantial. Where others only have a few bars and look a little boring – the Raceland version has plenty of chrome to go around.
How to a Miata Luggage Rack:
I leaned on the side of going for a classic look when I picked up a luggage rack for my 1991 Mazda Miata (a little more on that car here if you want to know). Sure once or twice a year I would strap on a piece of luggage for a 100 mile trip. But in reality I wanted to "fit the look" of a classic BRG Miata.
The rack I ended up choosing was the Raceland Maza Miata MX-5 NA Luggage Rack. I picked it up for $150 with free shipping.
The process was pretty simple and only took a few minutes. Just make sure to use the right end pieces for an NA or NB depending on what Miata you have. I did it wrong in the video and had to change it later.. So here's my video on How to Install Miata Luggage Rack:
This was one of my favorite upgrades I have ever done for my Miata. Like I said, mine was mainly for looks and it was surely an upgrade there. But when I went on some weekend trips I could put a suitcase in the trunk, another on the rack and two backpacks behind the seats under the hardtop. Quite a good amount of cargo for a tiny roadster.
A Luggage Rack is the Perfect Upgrade for Your Miata
At the end of the day, you can't go wrong with a luggage rack on a miata. They are so light and the aerodynamics of a Miata are so bad to begin with that there is little drawback. Plus as you have seen, you can install it in less than 30 minutes! I hoped this helped you in some way – cheers!
If you're into Miatas – you'll love some of our other articles: